Turning away from violence, drugs and all frustrations of a confused modern society, a large contingent of youth have found solace in His Holiness and today they form a strong force partaking in all social and spiritual activities including preservation of the environment.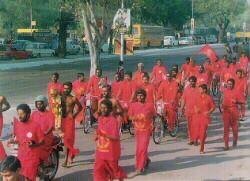 The Youth Wing has organized several bicycle rallies and processions all over India. The Peace Torch carried by these cyclists has brought rains when passing through severe drought stricken districts.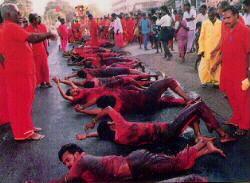 Members of the Adhiparasakthi Spiritual Youth Wing of South Arcot District circumambulated 108 kilometers from Kallakurichi to the Siddhar Peedam in Melmaruvathur to invoke the Blessings of the Supreme Power for peace, prosperity and the welfare of the human race.