Start Pages
Om Sakthi Home
Trust Home
Charitable
Mass Feeding
Other Charitable
Medical
Free Hospital
Eye Camp
Educational
Secondary
Polytechnic
Engineering
Physiotherapy
Pharmacy
Nursing
Science
Agriculture
Cultural
Conferences
Tours
Yagnas
Youth Wing
Other
Contact Trust
Genesis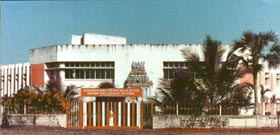 His Holiness Arulthiru "AMMA" Bangaru Adigalar, through his "Arulvakku" (Oracle) ordained the establishment of a good school in Melmaruvathur. Arulthiru Adigalar has been insisting on educational service as part of Service to Humanity, the principle consistently being advocated by him. Accordingly, Adhiparasakthi Siddhar Peetam Women's Trust took up the task of providing an excellent, English Medium School for the benefit of the people in and around Melmaruvathur and also for the benefit of children of the devotees of Adhiparasakthi Siddhar Peetam all over Tamilnadu. The resultant institution is this Adhiparasakthi Matricuiation Higher Secondary School, established in 1985. The school has sent up 15 batches of its X std. students for the Matriculation Public Examination. The school has been upgraded to a Higher Secondary School from the academic year 1990 -1991. The first batch of Xll Std. students sent up for the Public Examination in 1992.
Objectives
From the year of establishment the school has achieved a 100% result in matriculation as well as in Higher Secondary, except in one or two years. The School is guided by a Committee, the Founder-President being His Holiness Bangaru Adigalar himself, and the President being Thirumathi Lakshmi Bangaru Adigalar. No wonder, the school has as its motto DEVOTION, DUTY AND DEDICATION. Though the important task set forth by the school is imparting knowledge to students, the primary aim of the school is to help students to form a sound character.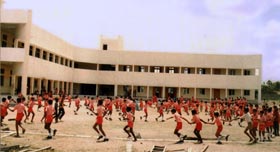 The school strives to play a vital role in the spiritual, intellectual, moral and physical well being of the students entrusted to its care. The favourite maxim of the school is to bring out the best and the noblest in every individual student and to inculcate in the student a spiritual attitude and a high degree of culture.
With the active co-operation of the parents and teachers the school maintains and develops in the students, sterling qualities like courtesy, cultured behaviour, decency, decorum, discipline, refined manners and high thinking. The parents have a generous spirit, are actively involved in the school, and display a sense of devotion and dutiful dedication to the ideals of the school.