Genesis

The Adhiparasakthi Polytechnic Institute, which is the first educational institute among the eight institutions now functioning, was started in the academic year 1983-84 with three basic and popular branches, each having an annual intake of 60 students. These were:
Civil Engineering
Mechanical Engineering
Electronics & Communication Engineering
mainly for the benefit of the surrounding rural public. Susequently,
Computer Technology
Electrical & Electronics Engineering
were started in the year 1995-96 and 1996-97 respectively.
Facilities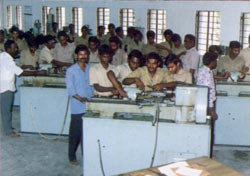 In all the departments we have well established laboratories and other academic facilities and other student amenities as per the AICTE norms. Separate hostel facilities with well-furnished rooms and modern cooking facilities are provided to accommodate 150 female and 450 male students. At present the intake per year is 330 students and the total number of students is currently 860. So far 3146 students have been qualified in the different disciplines cited above.
Scope
The philosophic principle based on which the institution has been initiated is STUDY, SPIRITUALITY and SERVICE. Accordingly, the students are instilled with the qualities of discipline and good decorum in the institute during their studies and maintain the same wherever they are placed both in and out of our State and Country.
Our students show interest and take an active participation in activities such as,
Adopting the nearby villages and providing basic amenities through NSS Special camps
Assisting the Trust in activities such as the Medical Camp and Functions of the Siddhar Peetam by volunteering themselves
Future Plans
There is a proposal to construct a multistorey building with an area of 2500 sq.m. and a laboratory and workshop building of 900 sq.m. in the next five years.