The Adhiparasakthi Movement is organized as diagrammed below. At the top is the Siddhar Peedam whch is located in Melmaruvathur, India. Below this are the Adhiparasakthi Trusts and Sakthi Peetams. The trusts run the day to day operations of the Schools, Hospital, Charitable functions, etc.
The Sakthi Peetams encompass areas containing large numbers of devotees, as in India, or large geographical areas, as in America. The Sakthi Mandrams are composed of at least eight people who wish to come together regularly to worship and conduct community service.
As the movement expands the number of Sakthi Peetams and Mandrams increases to keep pace.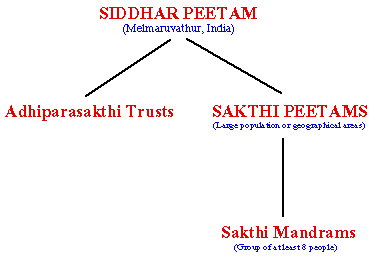 Numbers of Registered Mandrams
| India | Number |
| --- | --- |
| Tamil Nadu | 1779 |
| Other Mainland States | 101 |
| Elsewhere | Number |
| Andaman | 2 |
| Ceylon | 1 |
| Malaysia | 2 |
| Nigeria | 1 |
| Singapore | 1 |
| U.S.A. | 2 |
| Zambia | 2 |
Data for the year 1997.
Each Mandram has between eight and several thousand members. There are also many operating Mandrams which have not gone through the official registration process so their numbers can't be known. To see the web sites of several mandrams please go here.
In addition to the Mandrams there are 679 registered youth wings in India. These are made up of young people who wish to separate themselves from the violence, drugs and sex which many of their generation struggle with. They focus their energies on performing social services for the needy and organizing cycle rallies and processions, etc.